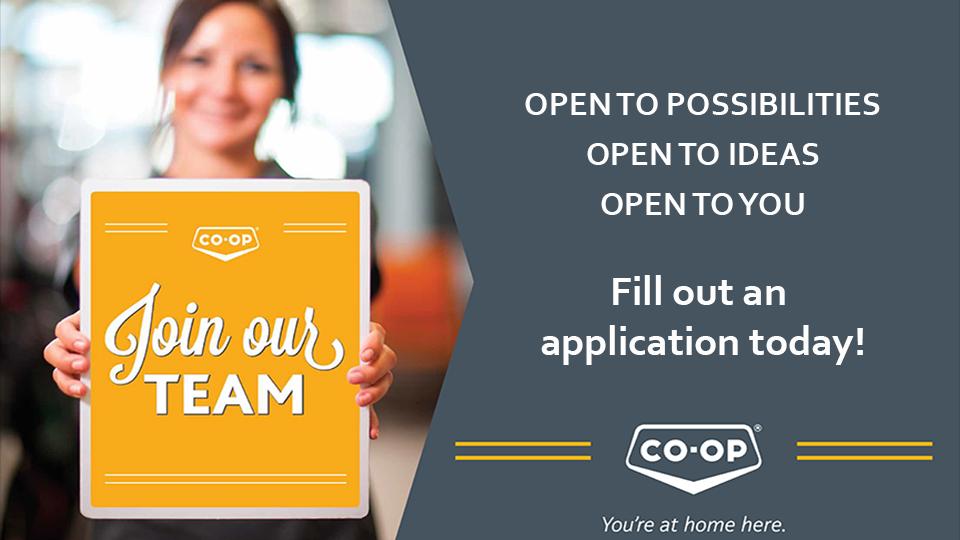 Join Our Team!
October 9, 2020
Interlake Co-op is a unique, multi-million-dollar organization based on the fundamental principles of co-operation. It is comprised of 6 locations throughout the Interlake region to serve our loyal members and guests. We are a different kind of business: member owned, locally invested and community-minded, we offer lifetime membership benefits including patronage refunds, quality products, quality services and fair prices.
Your Co-op is growing and evolving to serve our customers and communities better. We're continuing on our tradition to deliver a uniquely Co-op experience where you feel welcome. Interlake Co-op offers a competitive salary and a comprehensive benefits package, along with excellent training and opportunities for advancement.
Whether you are looking for student hours, part time or full time hours, Interlake Co-op wants to work with you!

Please use the application form attached below when applying for jobs with Interlake Co-op.
Once you fill out the online application form, email it along with your resume to any of our locations or drop it off in person.
Arborg Food Store 253 Main Street
204-376-5271 | foodstoremgr@interlakecoop.com | info@interlakecoop.com
Arborg Gas Bar 316 Main Street
204-376-2349 | gasbar@interlakecoop.com
Arborg Bulk Petroleum Office 17 Main Street S
204-376-5201 | fuel@interlakecoop.com
Eriksdale Food Store 24 Railway Avenue
204-739-2116 | rmeriksdale@interlakecoop.com
Eriksdale Hardware 18 Railway Avenue
204-739-2634 | rmeriksdale@interlakecoop.com
Discover more: